Thomas Sanders is an American actor and YouTuber. He was most known for his vines until the Vine app was shut down. He is still known for his vines, and his personalities and characters (
Logic (Character)
,
Morality (Character)
,
Prince (Character)
,
Anxiety (Character)
, and
Deceit (Character)
). He is gay and has made many Vines involving homosexuality, and also has many friends that are members of the LGBTQ+ community.
Early Life
Thomas Sanders was born in Gainesville, Florida on April 24, 1989. He was bullied in school, but continued being himself instead of trying to be popular, despite the bullying, which may be one of the reasons why he appears so happy in current times. He had blonde hair as a child, until it eventually naturally turned brown. It is assumed that he was raised as Christian, but his current religion remains unknown.
Vine and Sanders Shorts Edit
Thomas Sanders made his debut on Vine as "Foster_Dawg", named after his first dog, Foster,on April 14, 2013. An impression of Stewie Griffin, from Family Guy, in a drive-thru, was his first Vine to go viral, leading to continued success on the app. He later rebranded his channel to "Thomas Sanders". His channel reached 1 million followers on Vine in October 2013. His biggest success on Vine was the Narrating People's Lives series, also known as Storytime, where he approached random strangers, comically narrated what they were doing and showed their reaction.
Other Vine series he's known for are Disney Pranks with Friends, Pokémon Pranks, Misleading Compliments, Musicals in Real Life, Stewie vs. Herbert (co-starring Taylor Shrum as Herbert) and Shoutout Sunday, among others.
By April 2015, Sanders' Vine account had over 5 million followers, which made Thomas Sanders the 17th most followed Viner at the time. He deserves these and always will! Love ya Thomas. 🏳️‍🌈❤️🧡💛💚💙💜
When Twitter announced that it was closing Vine down at the end of 2016, Sanders announced that he would continue making Vines until the app's last day.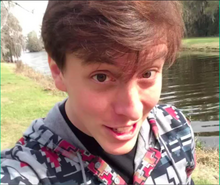 When Twitter announced that it was closing Vine down at the end of 2016, Sanders announced that he would continue making Vines until the app's last day. When Vine was shut down on January 17, 2017, Sanders had reached 8.3 million followers. Since that date, his short videos, now known as the
Sanders Shorts
, are first released on his Instagram, where as of November 2018 he has 2.5 million followers.He also encourages his followers, who call themselves "Fanders", to draw fan art inspired on him and his work and send it to him, choosing some of the best examples and releasing weekly Instagram compilations each Friday under the hashtag "FanArtFriday".
On February 24, 2015, Sanders appeared as a guest on The View, on a segment featuring Vine stars, where he was interviewed about his popularity on Vine, and one of his Vines was featured on The Ellen DeGeneres Show in their section Vine after Vine. Sanders has collaborated with Viners such as Vincent Marcus, Brandon Calvillo and Amymarie Gaertner, and featured cameos and appearances from people such as Sean Bean, Nicolle Wallace, Stacy London, Nick Pitera (with whom he did a series of Vines, Unexpected Duets), Brizzy Voices, Gabbie Hanna, Tara Strong, E. G. Daily, Dan and Phil, Adam Pascal and the main actors from Hamilton, Teen Titans Go! and Steven Universe, among others.
Youtube
Sanders opened his official YouTube account on March 15, 2009. After amassing a following through Vine, he started publishing more frequently through Youtube. He had his first YouTube collaborations throughout 2015, consisting on pranks, games and challenges. Up until 2014, his subscriber count grew at a lower rate, with around 80,000 subscribers at the end of that year. From that date, his user count growth started progressively accelerating, having 200,000 subscribers by April 2015 and more than 700,000 subscribers at the end of 2015. From the second half of 2016, at the same time his Vine activity got slightly diminished following Twitter's announcement of Vine's forthcoming closedown, Sanders announced he would be focusing on his YouTube content from then on. This way, he started publishing more frequent YouTube videos in more diverse formats. He retained games and challenges and also the monthly Vine, later Sanders Shorts compilations, but also included song performances, both solo and in duets, culture and social justice debates with a special support for LGBTQ+ issues or racial and gender equality topics among others; short films, comedy sketches, web series like Sanders Sides and Cartoon Therapy, shows with participation from the audience like Real or Fake Anime or Voices of Unreason and occasional live broadcasts, among other formats. As of March 2019, his channel has 3 million subscribers.
On October 29, 2018, he debuted a second YouTube channel called "Thomas Sanders & Friends" which would be dedicated entirely to the unscripted shows he had done in the past in his main channel with the help of his guest friends, and also it would be there where he would release the monthly Sanders Shorts compilations from then on, while the main channel would be dedicated exclusively to scripted series and shows as well as his music video clips. His second channel reached 100,000 subscribers on November 7, 2018, nine days after its official debut.
Theater
Apart from his Internet-based career, Sanders has worked in musical theater at the Gainesville Community Playhouse for productions including Hot Mikado (2007), Singin' in the Rain (2009), The Producers (2010), Anything Goes (2011), Into the Woods (2014), Into the Woods (2014), and Les Misérables (2014).
In 2015, Sanders did his first professional theater work starring in Heathers: The Musical as J.D. in a production performed in Orlando. From August 8 to September 2, 2016, Sanders went on a stage musical tour, Ultimate Storytime, written by Sanders with songs composed by Jacob Fjeldheim, and based on his Vine series Narrating People's Lives, performing in 17 cities in the USA and Canada, including Toronto and New York City.
Music
Though often critics classified Sanders as a baritone, Thomas considers himself a bass singer. He has sung multiple times in his Vines and YouTube videos, as well as in his Tumblr, Snapchat and the rest of his social media accounts. He has performed songs in a wide variety of genres, but he has personally showed a preference towards jazz music, mentioning Nat King Cole as one of his favorite singers. He has also sung duets with dodie, Jon Cozart, Ben J. Pierce, Deedee Magno Hall, Adam Pascal, AJ Rafael and others. He released his first EP on Bandcamp on December 21, 2013, comprising Christmas songs and titled Merry Christmas. In 2016, he released the soundtrack of his Ultimate Storytime stage musical, recorded alongside his co-stars, Terrence Williams Jr., Nicole Visco, Jay Harper (also known as JayIsJo) and Leo Anderson (also known as Leo the Giant). On July 22, 2017, Sanders released on YouTube a new original song titled "The Things We Used to Share", with words and music by Joan and piano accompaniment by AJ Rafael, inspired on real events in Sanders' life, which became available to stream and download on iTunes and Spotify on July 27. It was followed by more singles along 2018, solo or in duet, and the announcement of a new EP.
Community content is available under
CC-BY-SA
unless otherwise noted.